Patio Stones Needed For Above Ground Pool Installation
Chart of Patio Stones by size of Pool.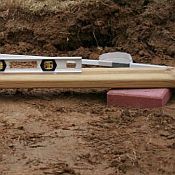 Click to Enlarge
Concrete patio stones should be placed at the base of each vertical column of your pools. This makes a better foundation for the pool wall. Patio stones that are 12" x 12" x 1" deep or larger will do nicely. Round patio stones 12" in diameter or larger will also work.
| Pool Size | # Stones Needed |
| --- | --- |
Above Ground Swimming Pool Installation Guide
Masonry Sand Volume Chart for Above Ground Pool Installations
Last Updated: 02/02/2023 04:01 PM - ID:1697