FatTowels
The Perfect Towel For the Pool, The Beach or Anywhere
All FatTowels are approximately 3ft x 6ft and made from 100% combed cotton finished with double-stitched selvedges. Our towels are the thickest you´ve ever felt - Guaranteed! These luxurious creations deliver ample layout room. Designed with the yacht and pool owner in mind, these towels are perfect any where under the sun! Available in three versatile weights: the Original FatTowel is the heaviest (FT70), the FatTowel Light is the medium weight (FT45) and the newest is the lightweight (FT30).
All FatTowels must meet high standards of quality, thickness, and size. Their unique thickness is unsurpassed - Guaranteed! FatTowels uses the highest quality dyes to insure their fade-resistance. FatTowels are great layout towels for the boat, pool or beach. They also make great blankets, exercise mats and beds for dog kennels.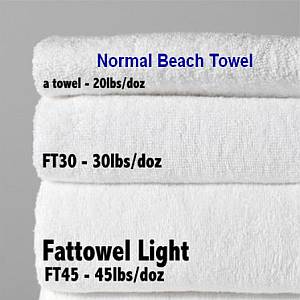 What is a FatTowel?
Designed for the lounge chaise, layout pads and chairs of the boat, poolside, beach : these towels have a cushion-like feel to them for maximum comfort while under the sun.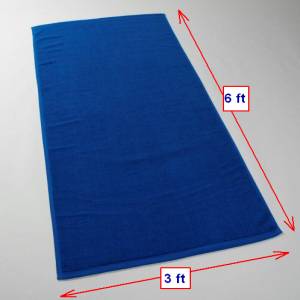 What is FatTowels Light?
These pieces have a lighter feel to them while keeping the same FatTowel size. Our 'Lights' are towels for the shower or a lightweight beach towel. Their thickness is still plush and soft like something you might find at your favorite spa/message resort.
How do they wash?
FatTowels wash more like blankets. They are outdoor towels and can be left to dry out in the sun and only need to be washed now and then. FatTowels Light wash just like regular towels. Both are 100% cotton so cold water and low heat are recommended. Some cotton lint in the first few washes is normal.
Are these towels absorbent?
Yes, very! As with any new towels, they will come from the manufacturer with a lot of softener in the cotton. To achieve maximum absorbency, wash your towels. In a cold cycle it may take up to five or six washings. The natural softness of the cotton will blossom washing after washing without the need for additional fabric softeners.
Visit us on our Blog for more ideas. pool towels
Price: $57.95
Sale Price: $48.95
Price: $45.95
Sale Price: $38.95
Last Updated: 02/02/2023 04:02 PM - ID:3546