Pool Broom Cordless Battery Powered Vac
Cordless, Hoseless, Broom sytled Vacuum for your Swimming Pool or Spa cleaning needs.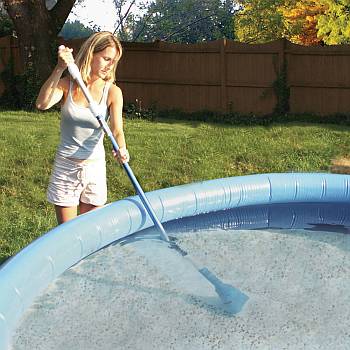 The Pool Blaster Aqua Broom by Water Tech is the perfect vacuum for spas, small pools, intex pools, ponds and fountains. The Aqua Broom is great for spot cleaning and sucks up dirt, debris, leaves and even algae. The Aqua Broom features a large capacity filter bag that is easy to remove and clean so it does not rely on electricity or your pool filter system, there are NO hoses, cords or external pumps. Runs up to 3 hours on one set of five D batteries (not included) and easily attaches to your telescopic pole for those hard to reach areas. This unique vacuum can also be used for steps, stairs and surface cleaning.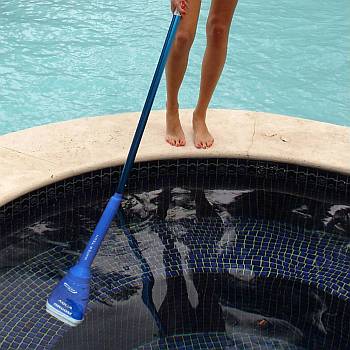 The Pool Blaster Aqua Broom is now even stronger which will let you clean in a fraction of the time. The Aqua Broom is one of the most affordable battery powered pool and spa cleaners ever made. It is more powerful than any wand type cleaners. With its optional micro filter bags, it removes sand, silt and even algae. It is an incredible new development in small pool and spa cleaning, keeping your pool sparkling, and your family healthy and happy.
Features of Aqua Broom Cordless Pool Vac
Powered by 5 D-Cell batteries.
Twist ON/OFF Switch
Up to 3 hours run time
Minimum Operating Depth: 3.75" @ 45 degree angle
Vacuum Head Width: 3.75"
Unit Size: L-24.00" x W-6.00" x H-3.50"
Unit Weight: 1.59 lbs + Batteries
Cleans 25 gallons per minute.
Hi-flow vacuum motor.
Automatic; No pumping or conncetions to filter or skimming.
Use by hand or attach to any standard telescopic pole.
Quick released telescopic pole connector.
Built-in wheels for ALL pools.
Re-usable filter bag.
Ideal for spot cleaning debris, sand, even algae from kiddie pools, spas, fountains or any pool.
Easy-grip handle for step, stair and surface cleaning.
Dent, ding, and fade proof; lightweight body.
Built-in hanging storage notch.
Warranty: 1 Year Limited
Last Updated: 05/02/2023 11:11 AM - ID:4181