AquaPill SolarPill a Liquid Solar Blanket Alternative
Minimize Heat Loss - No Need to remove and store a Solar Cover to use the pool.
Most pool heat loss is due to water evaporation. SolarPill minimizes heat loss by forming an ultra-thin, invisible barrier on the surface of the water to reduce evaporation. Its patented pre-measured delivery system gradually releases the formula into the filtration system to allow for optimum coverage. Replace when necessary to maintain water temperature. SolarPill can be used with all types of sanitizers.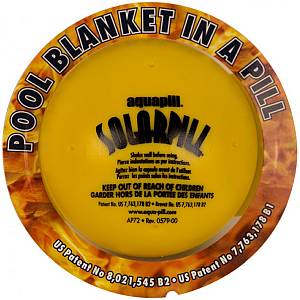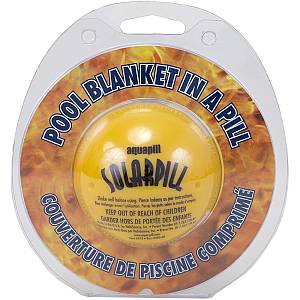 SolarPill Dosage
One Pill last for about 30 days. Small Pill for pools up to 12,000 gallons. Large Pill for pools up to 30,000 gallons.
How to use the SolarPill
Detach blue piercing tool from white pushpin.
Insert blue piercing tool into large center hole. Press firmly against hard surface until plastic is punched through.
Turn pill over and pierce two holes on both sides of logo using white pushpin.
With pump running, discard blue tool and place pill face up in skimmer for 4-6 hours.
SolarPill Best Results Tips
DO NOT place chlorine tablets into skimmer at the same time as the SolarPill.
Angle the returns downward to decrease water surface movement, as SolarPill is most effective in still water.
Features of Aquapill SolarPill Liquid Solar Blanket
Small 2.75" pill (4.4oz) treats up to 12,000 gallons
Large 4" pill (14.2oz) treats up to 30,000 gallons
One SolarPill last about 30 Days
Safe for all pool sanitation methods (Salt or Chlorine)
Non-Toxic formula
Made in the USA.
Features of Benefits:
Reduces heat and chemical loss
No Solar Blankets to take off or cover the pool
Extends the swimming season
Does NOT interfere with automatic pool cleaners
Last Updated: 02/02/2023 04:13 PM - ID:6091