Winter Pool Cover - Arctic Armor 10yr - Above Ground Pool Size 15ft / 16ft Round
Arctic Armor Above Ground Winter Pool Cover - 10yr Warranty
Our low-priced above ground pool winter cover has all the strength and durability that will ensure years of protection. The tough cover material is UV protected to last for years in direct sunlight. Rugged polyethylene thread and anchoring loops are also UV protected to remain strong for years. The black underside of the cover retards algae growth. Our big 4-foot overlap keeps the cover on the pool instead of in the water. The cover is held secure on your pool with a heavy duty vinyl-coated cable and winch that is anchored to the cover by strong rip resistant grommets. This durable cover is backed by a 10-Year Warranty (2-YEARS FULL), the cover is Graphite Gray with a black underside.
Artic Armor Winter Above Ground Pool Cover - 10 Year

Poly Threads (not cotton) are Stronger & Last Longer, won't Rot
9 x 9 Scrim/Thread Count
UV inhibitors to resist breakdown in the sun
Graphite Gray Top / Black Bottom
4ft overlap - Cover is 4ft larger than the pool size for which it was made
Great polyethylene Winter Pool Cover
WITHSTANDS WINTER'S WORST - Arctic Armor 10-year Winter Covers are perfect for regions that experience cold, winter weather. Designed to withstand repeated exposure to harsh conditions, these covers provide excellent protection for your above-ground swimming pool.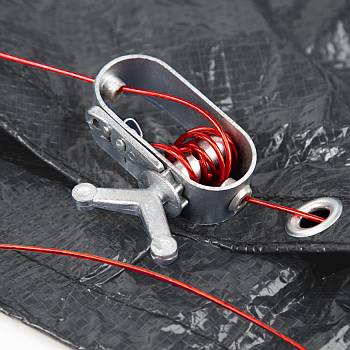 ULTRA-DURABLE FASTENERS - A vinyl-coated cable and metal winch keep your pool cover secured tightly and efficiently. The cover features metal grommets spaced every 2-feet to ensure your pool remains protected.
UV PROTECTED - Crafted from woven polyethylene strands, every Arctic Armor winter cover is treated with UV inhibitors to protect it from sunlight degradation. For additional protection, each cover has a black underside to prevent algae growth.
MINIMIZES SPRING MAINTENANCE - This solid cover with heat-sealed seams keeps debris, dirt, leaves, and branches from falling into your pool's water all winter long. And, in the spring, your pool will be ready for another season of fun and enjoyment.
Last Updated: 02/02/2023 04:07 PM - ID:6401